Deprecated: Elementor\DB::is_built_with_elementor is
deprecated
since version 3.2.0! Use Plugin::$instance->documents->get( $post_id )->is_built_with_elementor() instead. in /customers/f/9/9/pkfitness.co.uk/httpd.www/wp-includes/functions.php on line 5211
PK Fitness offers Personal Training, Group Personal Training, Classes and Nutrition Support for women who are passionate about following a varied workout each week and would like to understand in more depth, the power food has on the body. Ladies, it's time to find your buzz for healthy living! Feel FIT, FIRM and FAB with Phoebe Kay! 
HIIT Workouts At Home
Live & Online
12 Classes a month for £25
Replay your Favourite Workouts on Demand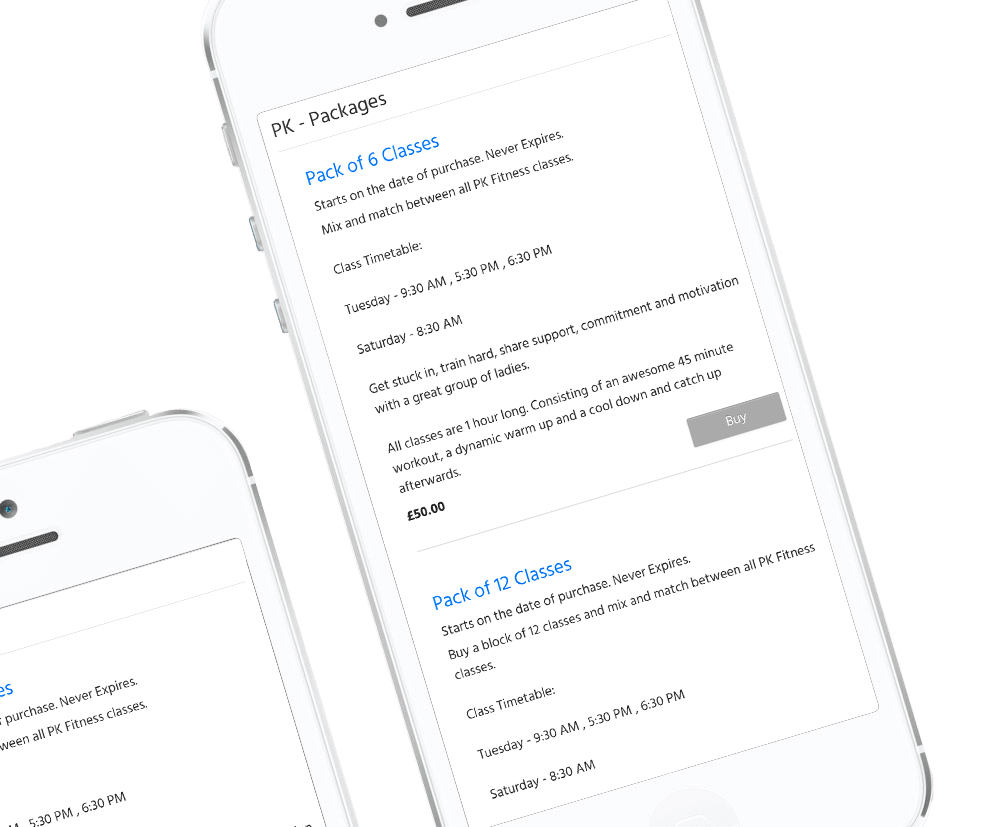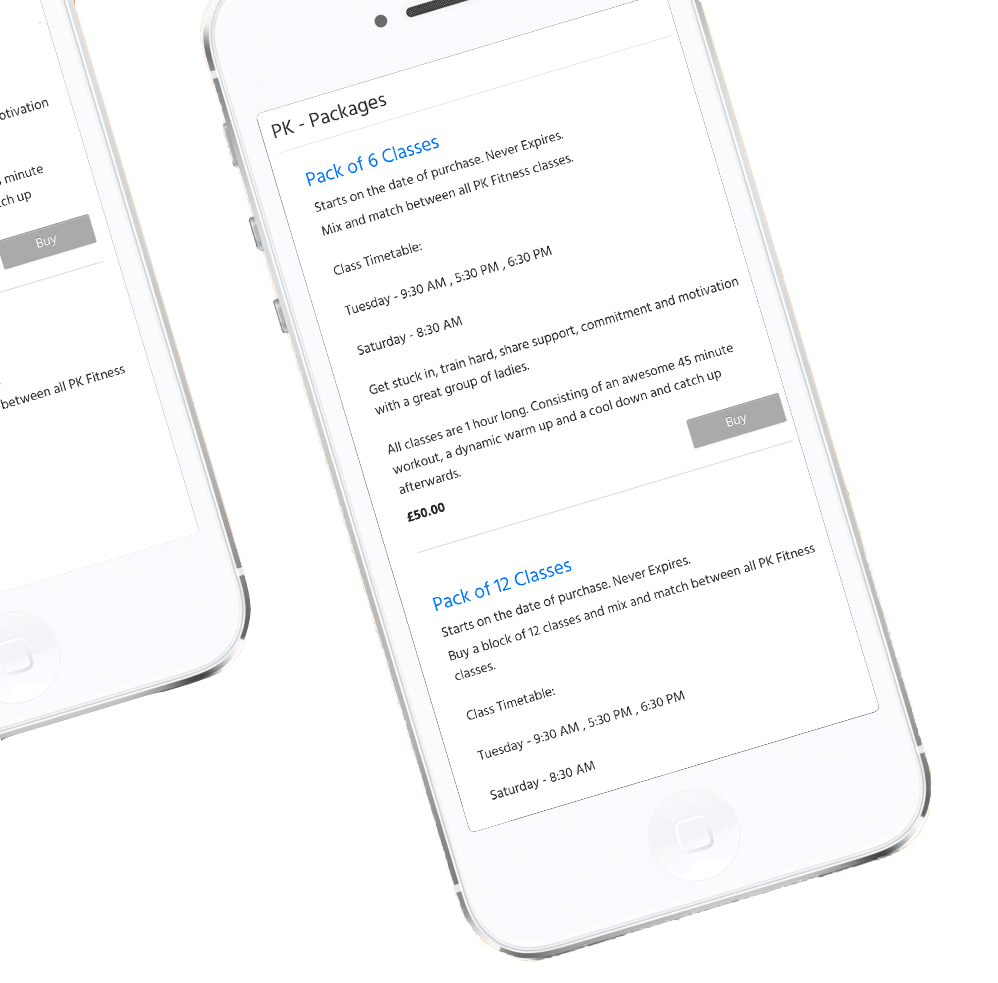 Sign up to the latest workout classes, book in for a PT session, track your fitness progress and much more in this all-in-one health app.
'' Phoebe's infectious enthusiasm combined with her expert knowledge of functional training and nutrition helped me to lose 3 inches from my waist without feeling bored of the sessions. I came out of each session feeling like I achieved something and I'm so happy to see a massive improvement to my stamina ''

''Training with Phoebe has genuinely changed my life! Before meeting Phoebe, I would visit the gym regularly but, as many people find, I was frustrated by the lack of results. Once I started training with Phoebe, she helped me to understand how the combination of exercise with the good nutrition would help me achieve the results I was looking for. I have had 3 children and thought that I would never manage to achieve anything like the figure I used to have pre children, but with Phoebe's support, encouragement and persistence, I am in the best shape I have ever been.  THANK YOU Phoebe''

''I really enjoyed my training sessions with Phoebe! I've had two children and hadn't done any serious exercise for quite some time. Particular exercises were also hurting my back before training with her, which didn't help my confidence. However, Phoebe was able to explain the reasons why and how to prevent the pain through correct posture and technique. She has given me many ideas for workouts to suit my needs and alongside these, excellent nutritional advice. I worked hard but at the same time laughed and had fun! What I've learnt through the sessions with Phoebe has been invaluable. Thank you xx

''Phoebe is a terrific goal-oriented personal trainer with boundless energy and enthusiasm. She also has in-depth qualified knowledge of health and Nutrition and she cares! With three children and a business to look after, weekly sessions with Phoebe have been the perfect way to shed inches and greatly improve strength, general fitness and have 'me time'. I feel transformed in less than 6 months. I have no hesitation in recommending Phoebe to anyone looking to rocket launch their New Year!"

''An experienced and skilled personal trainer with experience of supporting young people with autism, mental health and complex health difficulties. Thanks Phoebe. You've been a star!''

''After going through 10 months of intense cancer treatment, I was left incredibly unfit and unhappy with my body. I was introduced to phoebe by a friend and was instantly impressed by her kind and motivational nature. After doing a few group sessions I could already tell the difference and decided to do some one to one sessions. Phoebe has helped me become fitter and more confident in my body in such a short time. Not only that but Phoebe has helped me become more aware of what I'm putting into my body in a fun way. The way phoebe approaches everything in a fun way makes me excited for each session. So don't hesitate, you won't regret it!''

''I love Phoebe's classes. She constantly changes them so they are never boring - even our class in the park in the pouring rain was fun! Phoebe works you hard & the class sizes are small so she can always make sure you are doing the exercises correctly. I have been to group classes, smaller groups of 2 or 3 and 1 to 1 sessions. It doesn't take long for Phoebe to work out your strengths & what needs to be specifically worked on. She will also taylor the sessions to any specific requirements you may have & is always encouraging. Phoebe knew how hard to push me & my fitness levels really improved. Thanks Phoebe!''

''I've been going to classes for almost 3 years now and I've never been fitter. Phoebe is a great motivator and will give us new things to try each week so the classes don't get boring. She somehow managed to bring fun to fitness. Personal sessions fab as well had a great one last week where I got to try some new exercises.''

''I just want to say a massive thank you to Phoebe for all her enthusiasm, patience and help with achieving my goals for my Wedding.  I trained with Phoebe for four months before my big day and she helped me to lose 1/2 stone, 4 cm off my waist, 4% body fat and get down from a size 12 to 10 dress size.  Whether you have a big day coming up or just want to get in shape, Phoebe will help you get there!  Phoebe designed each training session exactly around my requirements, and every session was different and very effective.  I feel so toned and confident for my big day and all my trouble areas are much improved.  I would recommend Phoebe to anyone, as she will get results and her assistance with nutrition is a massive value added"

''Training with phoebe has been a 10/10 experience! She taught me a number of different training techniques – I loved using the Vipr, TRX and Kettlebells! Her advanced knowledge in nutrition was a massive help. I feel I've been pushed to my highest potential and always look forward to the next session- very excited to learn even more from Phoebe and reach a whole other level of fitness !''

''I came to Phoebe with a number of challenges after a recent injury which lead to me gaining a lot of weight. My motivation and confidence went downhill very fast. Phoebe added variety and fun to my training and before I knew it I lost 5 inches from my waist, looking and feeling GREAT. ...She is a truly lovely person and an exceptional coach. Thank you Phoebe ''

Level 3 Certified Personal Trainer (Reps) & Qualified Nutritionist Bsc (Hons) Trained and established in London. Now based in Sheffield.